Download the latest Mobile Legends Adventure APK for Android. The Mobile Legends Adventure APK can be installed on any Android phone.
Mobile Legends Adventure
Mobile Legends Adventure is the new favorite game of RPG players. This game is the official continuation of Mobile Legends Bang Bang. The Mobile Legends Adventure has been developed by Moonton. If you previously liked playing the Mobile Legends Bang Bang, you are definitely going to love this game too. Mobile Legends Adventure falls in the RPG category.
Gameplay
The story of Mobile Legends Adventure revolves around the character Layla. She is on a raining with her fellows Tigreal and the Imperial Knights. While Layla was patrolling to theMoniyan Empire, she sensed a very obnoxious silence. It seemed more like a calm before the storm. Having no idea of what was coming in, Layla and Tigreal decide to roam around in the area until they find something. Through this adventure, Tigreal tries to tell Layla that there is nothing wrong, but Tigreal can't really get that curiosity out of Layla. Soon after this little discussion, Layla and her companions realize that they have been caught up in an ambush. The enemies are all over them now. They were hiding in the jungle behind the trees. Now both the characters are facing death on their door. They must unleash their skills to conquer the Moniyan Empire. It is going to take bravery, valor, and bloodshed to get past those enemies.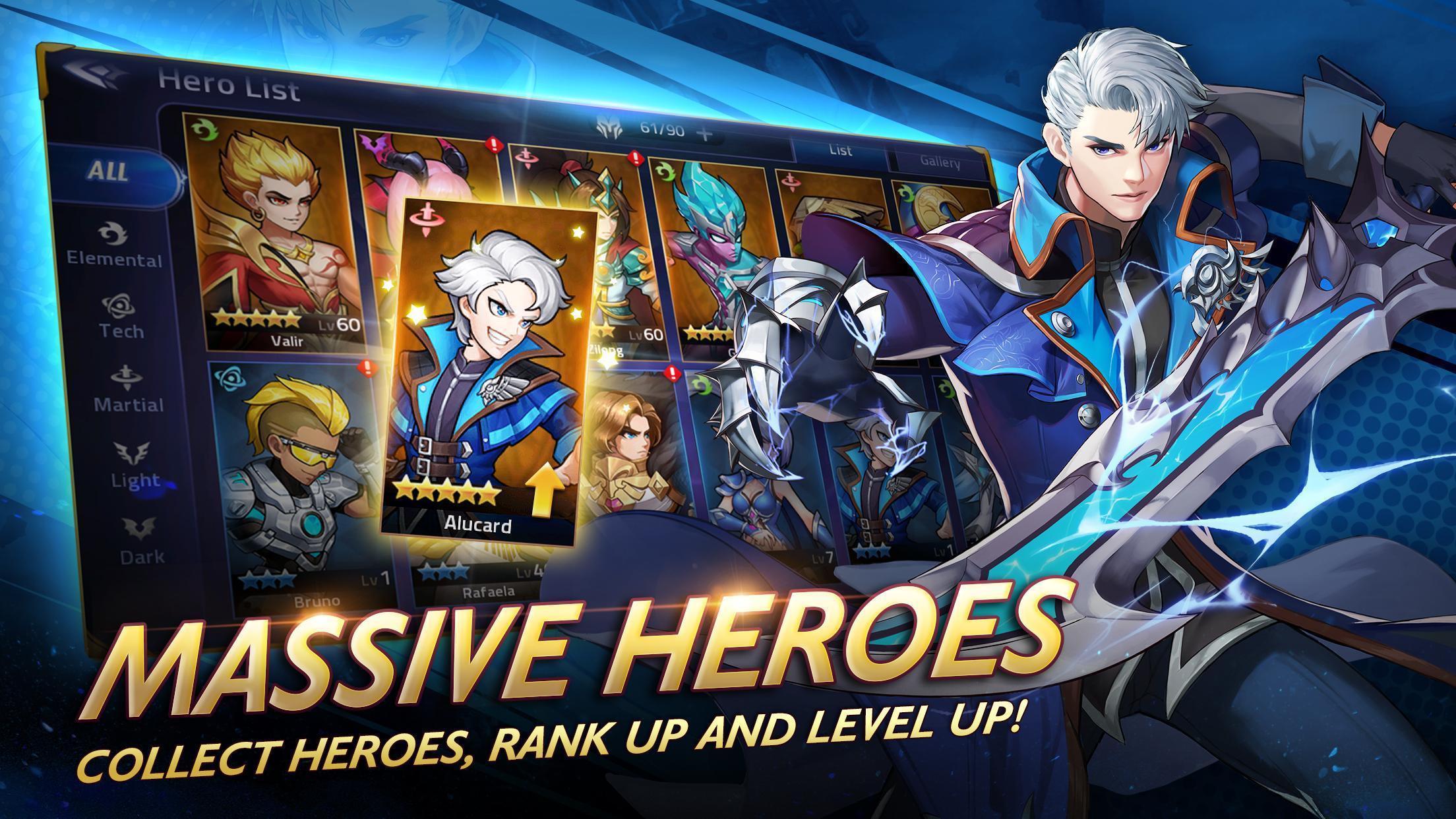 All the heroes in the game carry their unique powers and skills. Players will use the characters one by one to attack the enemies. Once the character is done casting the spell-like attack on the enemies, they can quickly launch the next player. Throughout the game, players will keep unlocking and summoning new heroes. The game comes with a unique reward system. The game currency includes coins and diamonds. It also offers in-game purchases. As far as the graphics of the game are concerned, they are impressive. quality of graphics proves the intensity of effort put in by the developers. Sound effects of Mobile Legends Adventure are equally good.
Although Mobile Legends Adventure is available in the Play Store in most of the countries, it still doesn't work in a handful of countries. If you are also facing this problem, you can try installing the game using its APK file which would definitely work. Down below in this post, you can find the latest Mobile Legends Adventure APK. The instructions to install Mobile Legends Adventure APK are also given next to the file.
Mobile Legends Adventure Android APK
Mobile Legends Adventure APK – Download
Copy the APK to your phone.
On the phone, open the File Manager and then open the APK file.
Install the APK by following the on-screen instructions.
Open the game from the app drawer now.
You are all set to play. Congrats!