Are you looking for Android Apps to Download Movies for Free? Well, you are the right place, we are here to help you. Since Android is an open-source platform that means we can do anything in terms of developers perspective. When it comes to Android you can find a number of unofficial apps to download or stream movies and TV Shows. However, since all of these are unofficial or unauthorized streaming source, Google Play doesn't allow such sources. That means you cannot find these streaming apps on Google Play.
We have compiled a list of best Android Apps to Download Movies directly on your smartphone. Before posting these apps here, we have studied them and after that, we have added them to our list. Most of these apps don't any kind of content on their servers, they provide you a search web directory to stream the movies and TV shows. These apps will let you stream and allow you to download movies and TV shows.
You can find anything on the Web, there are good things and then there are some who try to deceive in your every manner. Same goes with these apps, there are hundreds of fake apps which are designed for one purpose, inject malware into your smartphone. It's easy to identify such apps, they will ask for permissions which are not required for such apps.
Every app which is not downloaded from reliable sources is a threat to your privacy. So We would suggest you that, always try to download from a well-known source. So today, We've will give you the best Android Apps to Download Movies for Free. We've tested each app separately and then posted it here because we care of our readers.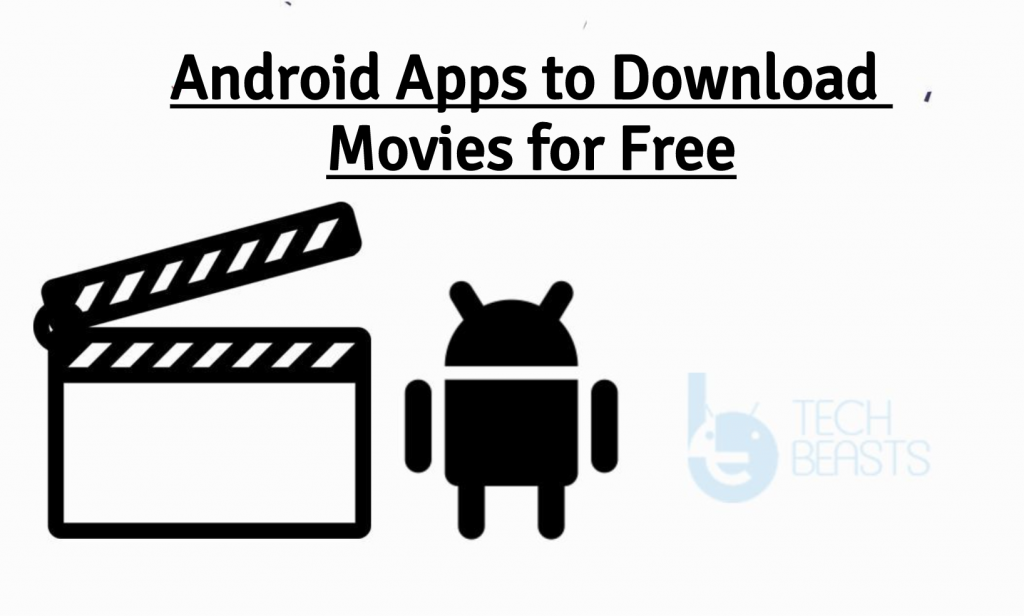 Note: Enabled unknown sources. Settings > Security and just right check Unknown sources.
Android Apps to Download Movies for Free:
Following are the best Android Apps to Download Movies for Free. Most of them will be available in APK format, so you need to install them manually.
Method:
Step1: Download the APK directly on your device.
Step2: Head over to the downloads folder or you can access it from the notification bar.
Step3: Tap on the downloaded APK file.
Step4: Follow the instructions provided on the screen.
Step5: Once the installation is finished, open your app drawer to access the newly installed app.

TerrariumTV:
TerrariumTV is said to be the best alternative to ShowBox. They host all of their content on their own servers. Moreover, it supports multi-language Subtitles and you can download movies and TV shows on your external and internal storage.
They have the biggest collection of 4k movies. TerrariumTV App supports Chrome cast, Fire TV and Fire Stick. You can download the TerrariumTV APK from the following button.
ShowBox:
Showbox is currently the best app for streaming movies online. The app includes so much content and you are likely able to get hooked on to it because of its easy to use.
The app is not available on the Google Play Store and if you want to download it, you can do so by going to their website. You can simply install Showbox APK on your Android.
Popcorn Time:
Even though currently in beta testing, the app is getting popular among user who wants to watch TV shows on Android.
Popcorntime not only brings you movies and tv shows but it also has the option to turn on subtitles if your favorite show is not in your language.
The videos are in HD so there should be no problem with the video quality. Popcorn Time was available on Google Play but now it is not, that means you have to download the latest Popcorn Time APK from the following button.
CinemaBox HD:
This app was formerly known as PlayBox HD. This app is best for streaming TV Shows and movies. Moreover, CinemaBox is a trusted app and it doesn't allow bugs and malware.
All the movies which are available at CinemaBox are in HD quality (720p). One of the best feature worth mentioning is Parental Control. Moreover, CinemaoBox comes with the support of Chromecast, Apple TV, and WiFi sharing.
You can download the movies directly on your Android device. Subtitles feature is also supported. Download the latest CinemaBox APK from the following button.
VidMate:
The Vidmate app is best to watch the latest movies and TV shows. Not only this, it is the best video downloader available for Android.
You can download and stream Bollywood, Tollywood, Hollywood and Dubbed movies on VidMate. This app is totally free and easy to use.
Vidmate supports all the biggest streaming hubs such as Vimeo, Dailymotion, YouTube, Instagram, FunnyorDie, Vine, Tumblr, Soundcloud, Metacafe, and many more.
OGYouTube:
OGYouTube is a modded version of YouTube App. This app can do so much more which is prohibited on Youtube official app. Since Youtube is the biggest source of online movies and tv shows. By using this Mod, you can have all this content your smartphone. OGYouTube has all the main core features of the official Youtube app and along with that, it is loaded with some awesome features.
Features:
Video Downloading.
No Root Required.
Ad Free.
Background Playing.
Dark Mode.
Kodi:
Kodi was previously known as Xbox media player. However, now that it has been introduced for Android devices, people have gone crazy and it is obvious why. While previously we had no availability to streaming Live TV on Android, with the arrival of apps like Kodi, we are able to stream shows on our devices. Kodi lets its users access media content including movies and TV shows as well as music. So it is an all-in-one app that is also very easy to use.
Besides smartphones, you can also run KODI on your laptop, TV, PC, and tablet. Kodi can actually replace your cable TV with its ability to stream Live TV, record, download and store shows and you can access them around the house on various devices. It uses local storage or cloud storage to keep your saved media. The app also includes various add-ons, for example, weather tools that come in handy as well.
Megabox HD:
This app gives you wide variety to Stream movies online, you don't have to use Google when you have Megabox HD and it's the one tap solution for those who are movie freaks. Megabox HD has the biggest collection of movies and TV Shows all in HD.
You don't have to subscribe to pay for anything it's totally free. All you have to do is download the App and start watching your favorite movies and TV Shows on your smartphones. Download the Megabox HD APK latest version from the following links.
Bobby Movie Box:
Bobby Movie Box is another online streaming app for Android. You can watch all the latest TV Shows and Movies for free.
Bobby Movie Box provides all the content in full HD. Moreover, you can download the movies and TV Shows directly on your Android device using Bobby Movie Box.
BeeMovie:
An app which is designed to provide free streaming. Moreover, you can watch and download all the movies from all over the world. BeeMovie comes without any cast, you don't need to sign up and it has a large database of Hollywood, Bollywood, Hindi dubbed movies.
These were the best Android Apps to Download Movies for Free. We will update this post frequently and we'll add some new apps for sure. So keep visiting our site.