I'm a big fan of Cricket, and to keep this alive, I play cricket games on PC  by EA Sports. But there hasn't been any cool cricket game available for Android for quite a long time. The ones available do not offer good game play, neither the graphics are worth playing the game, also the ads are annoying. After a long time, some nice developers have taken a notice of this very thing and brought us up a cool, addictive and amazing cricket game titled as Real Cricket 14.
Just as the name suggests, Real Cricket 14 by Nautilus Mobile wins the ground because of its graphics, game play is much realistic, moreover, the game is based on the latest real-time cricket of the present time. The game offers 16 nations and 8 master teams, and the players can be selected for each team when you're going to select yours. Consisting of different sets of overs, you can pick up the package for yourself and compete your opponent. Difficulty levels are easy, normal and hard.
Real Cricket 14 also sports different game modes e.g Exhibition Match, Tournaments (World T20, Master Cups, Knockout Cups). To help the players learn the tactics, developers have added net practice in the game as well. In total there are 27 different shots available that are pretty much unique. As we talked about the graphics above, this is the department where the developers have worked more than harder. Once you're playing the game, it just feels like a real ground having cricket freaks all around holding Sixes and Fours boards to celebrate.  Another nice feature in the game is the shop, where you can purchase the accessories (Bats, Balls, Shoes) to upgrade your players and make them perform even better.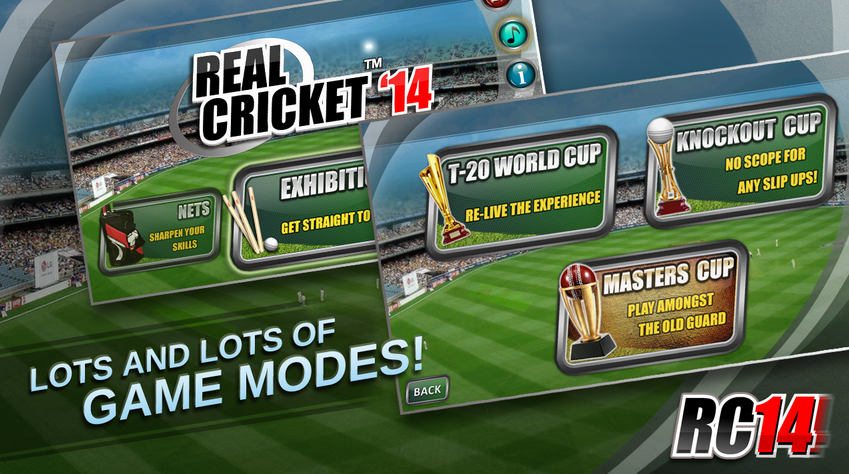 All of these great features in a game, that came into the Google Play Store for the first time make it quite interesting. That actually leaves the impact that even if the game lags somewhere, there surely is a great room for improvement that will make this game tremendous. Been days now since I'm playing this game, and I couldn't really get my hands off and stop beating the opponents whenever I get time. So, what are you waiting for now? It's time to play Real Cricket 14 and put some great scores on the board. Real Cricket 14 is available for free in the Google Play Store and the game offers in-app purchases to unlock to the tournaments and some other features.
We've also linked in the APK file here and explained how you can install it manually, just go ahead, install it and start playing.
Download Real Cricket 14 APK file.
Download the APK file and transfer it to your phone or download it directly to your phone.
Now locate the APK file on your phone and tap it.
Proceed with the installation now, select "Package Installer" if prompted.
Allow "Unknown Sources" if required.
Complete the installation.
Access the installed game from the App Drawer.
Enjoy Real Cricket 14!
Don't forget to let us know about your experience with the Real Cricket 14.