Samsung Galaxy Tab E was released last year as a mid-range device. Samsung has been bringing a variety of Galaxy Tab devices falling in the premium category, mid-range and also in the low-price category. Galaxy Tab E may be one of the devices which are pretty easy for users to get their hands on. Following the tradition, Samsung released the Galaxy Tab E in two sizes as well. The Galaxy Tab E comes as a 9.6-inch slate and as well as an 8.0-inch handheld. Galaxy Tab E 9.6 and 8.0 only differ in terms of display, the rest of the hardware is almost the same.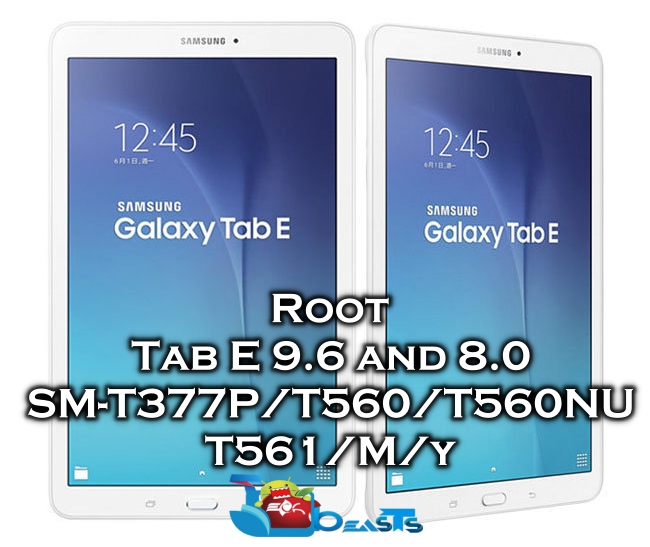 Both the Tab E 9.6 and 8.0 are equipped with either a Spreadtrum Quad-core 1.3 GHz CPU or a  Qualcomm Snapdragon Quad-core 1.3 GHz Cortex-A53 CPU and a RAM of 1.5 GB. At the back, a 5 MP shooter is fixed and on the front, a 2 MP Shooter is placed. Tab E 9.6 comes with 8 GB internal storage and the Tab E 8.0 comes with 16 GB internal storage. Both of these devices are equipped with a 5000 mAh battery. This Tab duo runs on Android Lollipop out of the box but it's upgradable to Android 6.0.1 Marshmallow.
Galaxy Tab E is around for quite a while now. You may find a little bit of custom stuff to play with this device as well now. To begin customizing your Galaxy Tab E, you need to gain the root access first of all. To flash custom files on it, you need a custom recovery. Luckily a custom recovery (TWRP 3.0.2-1 or TWRP 2.) is available for our beloved Tab E which means it's pretty easy to root it now.
Install TWRP and Root Samsung Galaxy Tab E
Let's go ahead and flash the TWRP recovery on the Galaxy Tab E 9.6 and Galaxy Tab E 8.0. Once we have flashed the TWRP recovery, we will flash SuperSU to root the device. The on-going guide works with Galaxy Tab E 9.6 Spreadtrum SM-T560, 561, 561Y, 561M and Qualcomm Snapdragon 8.0-inch SM-T377P (Sprint) and 9.6 Tab E SM-T560NU running Android Lollipop or Android Marshmallow.
Preparations
This guide is only for the devices mentioned above. Do not try this on any other device.
Charge your device up to 50%.
Use original data cable to establish connection between your PC and your phone.
Backup your important data as a safety measure. Use the backup guides linked below.

Backup Media – Copy your files manually to your PC or Laptop.

Follow this guide to the letter to avoid any mishap.
DISCLAIMER: FLASHING CUSTOM RECOVERY AND ROOTING THE DEVICE VOID ITS WARRANTY. IN CASE OF A MISHAP, TECHBEASTS OR SAMSUNG MAY NOT BE HELD RESPONSIBLE. MAKE SURE THAT YOU'RE DOING EVERYTHING AT YOUR OWN RISK AND WITH YOUR FULL UNDERSTANDING.
Required Downloads:
Download and install Samsung USB drivers.
Also, Download and extract Odin 3.10.6.
Download SuperSU.zip file and copy it to your Galaxy Tab E's internal storage.
Download  TWRP Recovery file according to your device and model number and copy it to your desktop.

Sprint Galaxy Tab E 8.0 SM-T377P (Qualcomm Snapdragon)
Galaxy Tab E SM-T560NU (Qualcomm Snapdragon)
Spreadtrum Galaxy Tab E SM-T560
Spreadtrum Galaxy Tab E SM-T561(Y/M)
How to Install TWRP Recovery and Root Galaxy Tab E
Open Odin3 V3.10.6.exe that you extracted on your PC.

Enable OEM Unlock on your Tab E. To do so on your phone, go to settings > about device > tap the build number for 7 times to enable developer options. Get back to the settings and open developer options. Under developer, options turn on "OEM unlock."
Put your Tab E in download mode now. To do so, turn it off completely. Now turn it on by pressing and holding Volume Down + Home + Power Key. Once your phone boots up, press the Volume Up key to continue.

Connect your phone to your PC now. The ID:COM box in the top-left corner of Odin3 should turn blue. This indicates that your phone is connected properly.

Now click the "AP" tab in Odin and select the TWRP recovery.tar file that you downloaded. It will take a second or two for Odin3 to load this file.

Make sure that your Odin3 looks like this. The only option ticked should be F. Reset Time.

Now you're all set to flash the recovery. Just click the start button in Odin3 and sit back.

Once the process box above ID:COM box shows a green light and flashing process is finished, disconnect your device.
Now again press and hold Volume Down + Home + Power key. As soon as the screen of your Tab E goes black, immediately switch from Volume Down to Volume Up key. This will take you to TWRP recovery now.

Once you've verified that TWRP recovery is working fine, tap Install option in the TWRP recovery.

Now after tapping install, locate the copied SuperSU.zip file and flash it.
Once flashed, tap the Reboot > System option from the main TWRP screen. If TWRP asks you to root your device, cancel this option and proceed to the reboot.
As it boots up, check out the SuperSu in the application drawer. Also, install BusyBox from Play Store.
Verify root access using Root Checker.

That's all. You're now set to unleash the open source nature of Android.
Don't forget to backup Nandroid now.
Stuck with anything? Reach us out through the comment box below! This is how you can Root Samsung Galaxy Tab E.
Credits: Ahsyx