Looking for your music's audio? SoundCloud most probably is the place where you will find the audio version of your favorite music tracks, and you may be able to find a number of different versions (mixes) of your favorite music tracks. SoundCloud's features are good enough to make you addictive with the site and its apps, you can create your playlists, add music to your playlists from other's lists, you can upload your music, share it with your friends, follow the people and a lot more.
Users can also stream the songs and save them on the SoundCloud's Android and iOS apps as well, but streaming has a limit and at times you won't be able to save the stream for your whole playlist and you won't be able to play the tracks offline, in this case, you would like to have your favorite playlist completely downloaded so that you can listen to your favorite tracks at any moment anywhere. The only option that I didn't find on SoundCloud is, how can I download my playlist or a playlist from any other user.
As I had to download my playlist, I came across a nice application that helped me to download my whole playlist within a few minutes. Couldn't resist me to share it on the site, so here it is SoundCloud Playlist Sync. It's a very lite, easy to use application with a simplistic UI. As you move forward, you will find the complete "How To Guide" to download playlists easily with SoundCloud Playlist Sync. Follow the guide carefully in order to get it done successfully.
Update: The new version of SoundCloud Playlist Sync has been added below. You can download complete SoundCloud playlists once again. The new SoundCloud Playlist downloader tool has a new UI, however, the options remain the same. The new UI can be seen here and you will follow the same guide to use it. The method is working fine as of June 2018.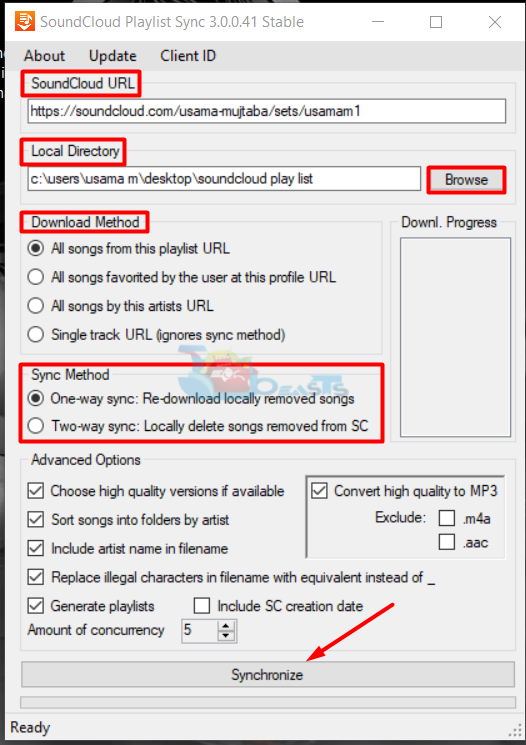 How to Download Complete SoundCloud Playlists
Download SoundCloud Playlist Sync.zip file and extract it on your desktop.
Run SoundCloud Playlist Downloader .exe file from the extracted files.
Install the SoundCloud Playlist Downloader.
Once installed, it will open up, if it doesn't, click on the same SoundCloud Playlist Downloader .exe file.
This time instead of installation, it will open up as "SoundCloud Playlist Sync".
Now copy your desired Playlist's URL from SoundCloud, follow the instructions in the picture below.
Now paste the copied URL in the SoundCloud Playlist Sync, follow the instructions in the picture below.
After pasting the URL and selecting the download location, click on Synchronize and the download will begin.
If you get any error, just click the Synchronize button again and see.
It will download the tracks one by one, once done find your tracks in the folders in your download location.
That's all. I hope that you guys find this how-to guide easy to use and helpful.