Here are 10 Best Google Gravity Tricks Which Will Amaze You. If you are tired of using your same old Google search engine everyday, you can now add some twist to it and have a different experience.
Google Gravity was introduced by Google in 2009. It is a java based search engine trick that makes using Google even more fun in extra ordinary ways. The trick basically maneuvers with the contents of the search engine to make them look interesting with a bit of crazy element.
10 Best Google Gravity Tricks Worth Trying:
Google Zero gravity:
Google Zero Gravity is basically what makes all the web pages and its content turn upside down or if you ask more clearly, it shows in reverse order. This not only includes text, but also applies to the images, search text as well as search result order.
Try Here.
Google Gravity Underwater:
The next amazing trick that you should try is the Underwater trick. And you can guess from the name, the web pages will have an underwater effect where you will be able to see all the contents on the webpage floating alongwith the water species.
Try Here:
Google Gravity Guitar:
This trick is for all the guitarists or guitar fans who want to see a guitar on the homepage of the search engine. Google Gravity Guitar displays a guitar alongwith some popular tunes and notes that you can follow. It will also show the search results in reverse order.
Try Here:
Google Gravity Sphere:
Want to see the contents of the webpage moving in a circular motion? Well, Google Sphere will do the trick for you and as you hiver the mouse over the web page, you will be able to see the contents circle around the mouse. However, it can be a little tricky to click on the link.
Try Here:
Google Space:
Google Space is much similar to Google Gravity in which the webpage content shows like it is in outer space, floating as if its under zero influence of gravity.
Try Here:
Google Barrel Roll:
'Do a barrel roll' is another interesting Google Gravity Trick and unlike other trick mentioned above, this one is just spontaneous. If you type 'do a barrel roll' in Google search bar, your webpage will make a speedy 360 degree spin which is really cool.
Try Here:
Google Tilt:
This one will actually slightly tilt the webpage and all of its content. Like Barrel Roll, to apply Google Tilt, all you have to do is write 'Tilt' in the Google search bar.
Google Gravity Zerg Rush:
This trick is derived from the popular video game Zerg Rush and what it does to the webpage is amazing. As you type Zerg Rush in the Google Search bar,  zero digits will start falling on the screen. As they fall on the search results, they results will start to disappear one by one.
Google Flat Fall: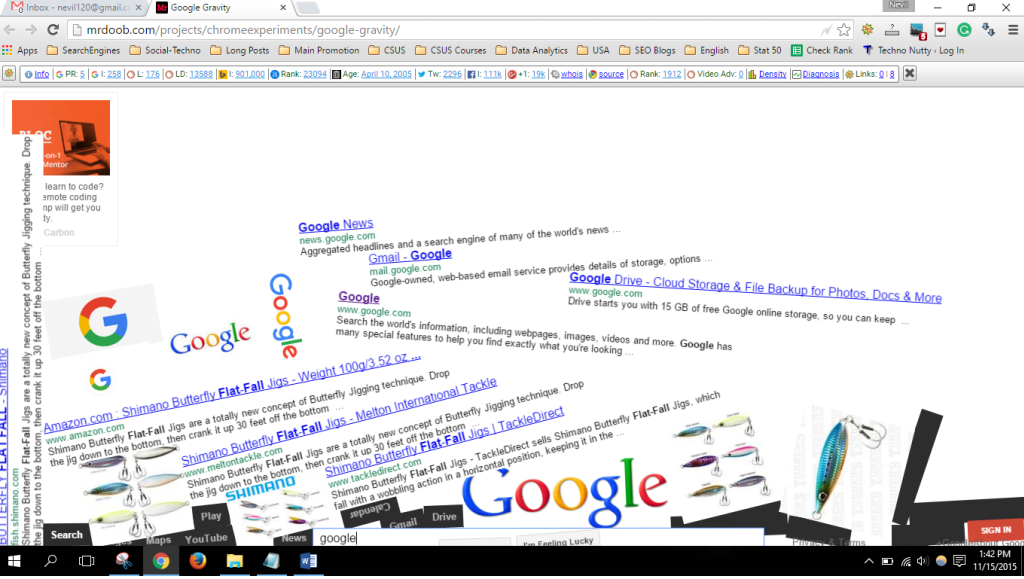 Flat Fall makes the webpage contents; images and everything else fall down on the screen with a little bounce.
Try Here:
Google Gravity Mirror:
The Mirror is very interesting. Through Google Gravity Mirror, you can actually apply mirror effect to the webpage where all the contents will appear inverted or in reverse.
These were the 10 Best Google Gravity Tricks that everyone should try atleast once. These tricks are quite distinctive and perfect if anyone needs to play a prank or have some fun rather than to keep using the same old search engine.