Samsung Galaxy Note 8 is one incredible device. After going through the nightmare of the Galaxy Note 7, it was quite a task for Samsung to earn its lost respect. Fortunately, the Galaxy Note 8 did so well that Samsung officially forgot the Galaxy Note 7. The Galaxy Note 8 is a powerhouse inside a beautiful body. It comes with a 6.4-inch Super AMOLED QHD+ display with the protection of Gorilla Glass 5. Galaxy Note 8 has a dual camera at the back with 12MP + 12MP sensors. It has an 8MP shooter on the front. Galaxy Note 8 is powered by Qualcomm Snapdragon 835 or Exynos 8895 CPU. Inside is a 6 GB RAM and its internal storage is 64 GB. The Note 8 has a 3,300 mAh battery. It runs on Android Oreo at the moment.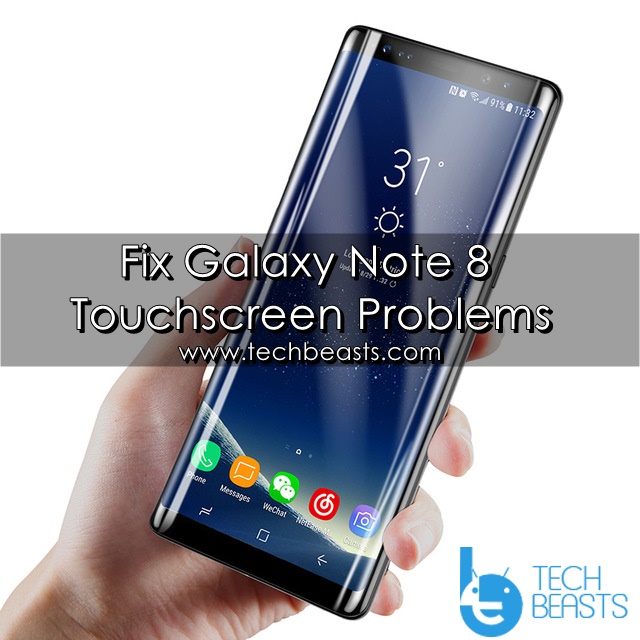 Galaxy Note 8 is a solid device. Samsung has not only worked on its build and hardware, it has also optimized the software. It is very rare to have an issue with such a device. A number of users recently reported on different Samsung forums that they started having touchscreen issues on the device. According to a user, the Galaxy Note 8's touchscreen reported unregistered touches. Another user reports that his Galaxy Note 8 received an extra touch upon touching every single time. One user reports that the Galaxy Note 8 doesn't respond to the touches as it should.
It is very unfortunate to face such issues on a device that you invest your hefty money on. However, every problem comes with a solution. Thankfully, it is quite easy to fix such common issues on Samsung Galaxy devices. Samsung leaves various methods that one can apply on a device to fix touchscreen issues. If you are here on this page at the moment, I'm assuming that you are facing a similar problem on your Galaxy Note 8. Now that you are here, I will try to help you fix the Galaxy Note 8 touchscreen problems.
Galaxy Note 8 Touchscreen Problems
These are the Galaxy Note 8 touchscreen problems reported by some Galaxy Note 8 owners so far.
Galaxy Note 8 Screen Flickering
Galaxy Note 8 Touchscreen Missing Touches
The Galaxy Note 8 Screen Becomes Unresponsive
Samsung Galaxy Note 8 Sensitivity Problem
Galaxy Note 8 Unregistered Touches
Slow Response from Galaxy Note 8 Touchscreen
Proceed to the methods given in this guide in order to fix Galaxy Note 8 Touchscreen Problems right now.
How To Fix Galaxy Note 8 Touchscreen Problems
1. Check for a hardware fault
On your Galaxy Note 8, open dialer.
In the dialer, dial the following code: *#0*#
Dialing this code will open a phone checkup menu.
Now click on "Touch".
It will open a screen showing an X in the form of small boxes and tiles.
Move your finger through this X and the box.
As you move your finger through this X, the screen will turn green showing that it is detecting the touches.
If the test goes successful, it will automatically take you back to the checkup menu.
If the screen does not turn green upon moving your finger through this X, it means there is a problem with the screen.
This would mean there is a hardware issue and it's better to take your phone to a service center.
2. Check your screen protector and ensure the screen is not wet or moist
There is a problem going on with the screen protectors these days. The glass protectors are too hard and thick, which is why the screen refuses to detect touches. If your phone has a glass protector, check how thick the glass protector is and whether it is pasted on the screen properly or not. You can also try removing the glass protector and using the phone afterward. It may work fine without a protector. It is recommended to use a jelly protector on a phone like the Galaxy Note 8.
At times, the phone's screen is moist or its wet. The touchscreen does not work in such a case. Always make sure that the phone's screen is completely dry, neat and clean. You can try wiping the screen using a microfibre cloth and use the phone again.
3. Upgrade Touchscreen Firmware
Upgrading the touchscreen firmware can potentially fix problems on your phone's display. Here is how to it.
Open dialer on your phone.
In the dialer, dial this number: *#2336#
The dialer will now take you to a screen showing different options.
Now click on the "TSP FW UPDATE" option on this screen.
It will upgrade the firmware now.
Once done, reboot your phone.
Try using the touchscreen now.
4. Wipe cache partition
At times, the cache can mess up with the touchscreen as well. Here is how to clear it.
Turn off your phone.
Press and hold Volume Up + Bixby + Power button. Keep the keys pressed unless you see the recovery mode.
In recovery, use the Volume Down key to highlight "wipe cache partition". Press the power key to make a selection.
Wipe cache partition now and reboot the phone.
Check the touchscreen response now.
5. Try Safe Mode
Safe Mode disables all the third-party applications on your phone. You can boot your Note 8 in Safe Mode and check the touchscreen after that. If the touchscreen works fine in the Safe Mode, it would mean that the phone's display is being disturbed by some third-party application. In such a case, you will have to go through all of your apps and uninstall the ones you think can be the culprit. Here is how to boot into the Safe Mode.
Turn off the phone.
Now turn on the phone and press the Volume Down Key. Keep it pressed unless you see the home screen.
After getting into the home screen, let the key go.
You will now find the "Safe Mode" watermark on the lower left corner of the screen.
This means all apps are disabled now. Check the touchscreen and act accordingly.
6. Uninstall applications that control the brightness or the display of your phone
If you are using an application that is controlling the brightness or any other aspect of your phone's display, you can try to uninstall the application. Such applications can greatly disturb the functionality of your phone's touchscreen. It is suggested not to use any such application on your phone.
That's all for now. I hope you find these solutions helpful. If you have any further queries, feel free to reach out to me through the comments section below.