Whenever there is a talk about Android, we can expect great things. Billions of apps have taken birth and are constantly expanding the functionality of Android. Although Android is pre-loaded with some splendiferous features, but the open nature of this OS is the real deal that has allowed the developers to get their hands on awesome ideas and bring em' up for the users. You can add themes using differently launchers to your Android screen, you can use different widgets to make it look cool, you can also use different color effects, modify icons of your Android phone and a lot more is there.
The pre-installed weather and clock widgets come with a theme / background in your phone. This background sometimes makes your phone's screen ugly. HTC's weather and clock widgets are quite nice, but Samsung's and other manufacturer's weather widgets are not really so cool. There were mods that made these clocks and weather widgets transparent in early times, but not everyone is an expert enough to flash a mod and do the things beyond the boundaries.
So, to add this great feature to your phone, Droid27 has a Transparent Clock & Weather widget app in the Google Play Store. Transparent Clock & Weather is not only an app with a transparent background, but it is a completely customizable app. It packs up a number of weather icon skins, fonts for time, world weather feature is there, you can choose which elements you want to display on the widget. Besides all this, you can select the moon phase, there is an option to show a different time from the one on your device, you can also add weather from multiple custom locations on your Android. Transparent Clock & Weather has the ability to detect your current location and display it's details. There are multiple widget sizes to select from and each widget has the capability of showing various elements on your device's display having a transparent background.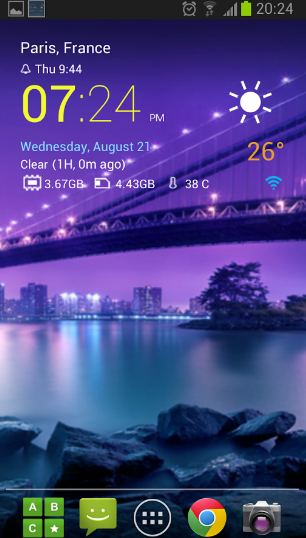 Well, I guess that's enough about this cool app. So, what are you waiting for? Go ahead and get this free app from the Google Play Store and make your friends jealous with your phone's on screen look.