Samsung Galaxy S10 series has finally got its TWRP custom recovery. Android customization enthusiasts who own a Galaxy S10 can finally install this recovery. The TWRP Recovery is available for the Galaxy S10, Galaxy S10 Plus, and S10E. Follow the instructions in this guide to install TWRP Recovery on Galaxy S10, S10 Plus, and S10E.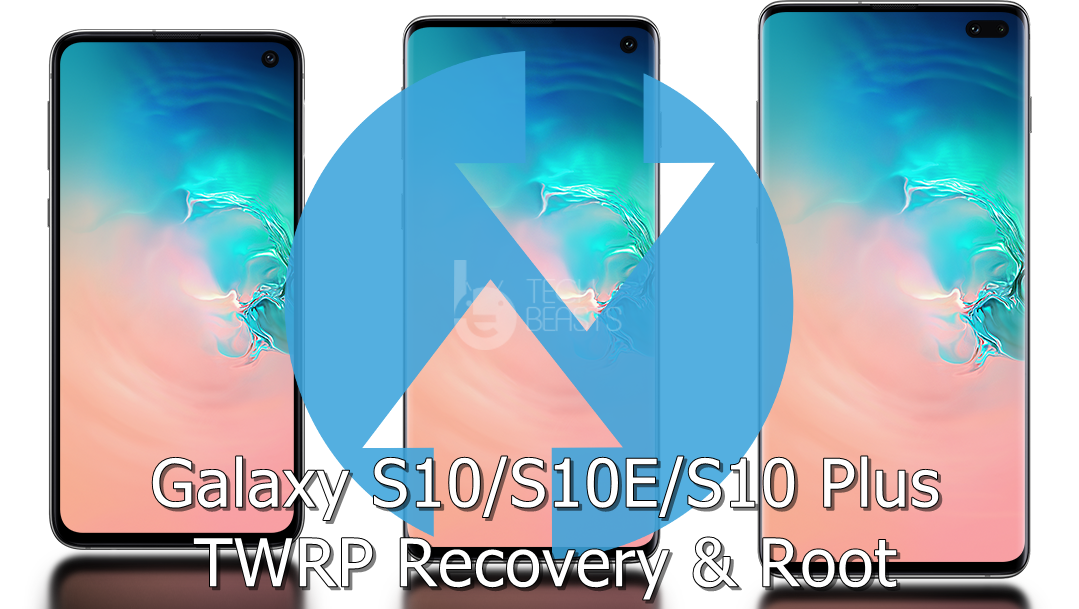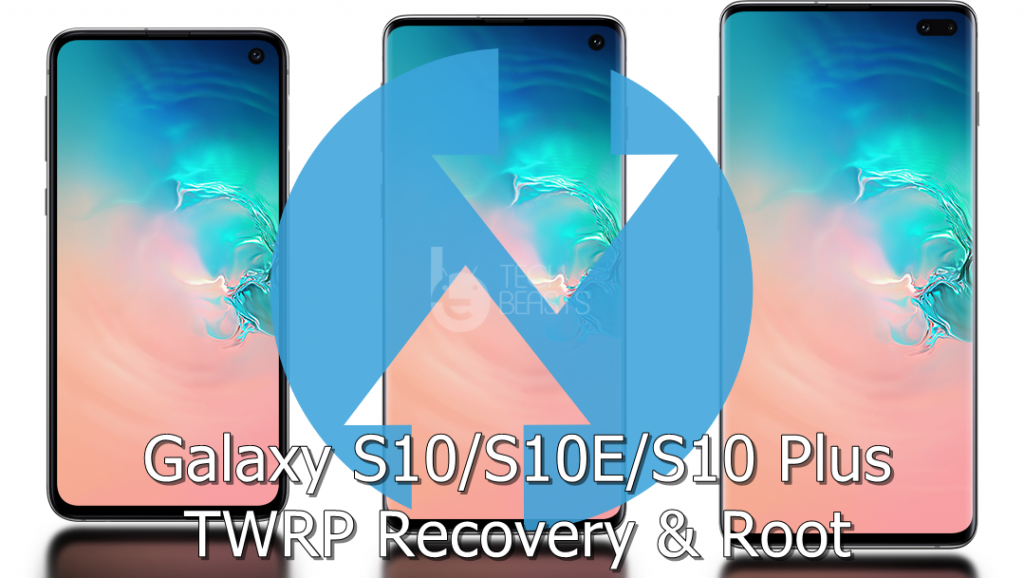 Before I show you how you can install this custom recovery on your S10, let me give you an idea about custom recoveries.
TWRP Recovery for Galaxy S10 – What does it mean?
Okay, this is the paragraph for the users who have never heard of a custom recovery before. If you already know everything about a recovery like TWRP, you may skip this part.
Recovery is a setup hidden in the bootloader of an Android phone. On different Android phones, you can access this hidden menu by powering off your phone and then turning it on using a combination of Volume and Power buttons. This menu gives you the options to wipe the cache of your phone, boot the phone into bootloader, and hard reset the phone too. Now, this recovery is capable of much more than what you see on the phone, but the phone makers lock those features down for the sake of security. This is the gap that the custom recoveries like TWRP fill.
The TWRP Recovery on Galaxy S10
Back in the day, we used to have recoveries like CWM and Philz Advanced CWM. TWRP came later on. Now that there is no CWM or Philz CWM, TWRP still exists and that is actually the best thing for Android users. TWRP has been enhanced so much that using it now has become a piece of cake. TWRP comes with an interactive touch interface. The recovery is pretty much self-explanatory which means that the chances of you messing up your phone are very low.
The TWRP Recovery for Galaxy S10 gives you a plethora of options. S10 Owners can wipe cache partition of their phone. They can clear the Dalvik cache as well. Each parittion can be formatted manually, which is not possible otherwise. Another great option is the backup of all the partitions including the EFS Backup and Nandroid. The Install option will let you flash all the .img and .zip files. The recovery has its adb terminal as well which can be used to sideload files on the phone. TWRP Recovery, in past, has helped phone owners to recover data from their soft bricked phones.
If you are a pro-Android user, having a custom recovery on your Android phone is a must. Every day, we see 100s of useful MODs coming in from the developer community. Along with the MODs, there are custom ROMs which help to unleash the full potential of the phone. To install any such thing, you need a custom recovery. Rest of the uses are already explained above.
Assuming that you have a full understanding of a TWRP Recovery, let us move on to the steps to install it now.
Note
Although I have tried to explain the process in laymen terms, the risks regarding a custom recovery still remain high. See, the custom recoveries, ROMs, MODs, and Root are highly prohibited by the device manufacturers. These customizations have the ability to damage your device. Remember that the damage is supposed to happen only if you do not follow the instructions properly. This will trip the Knox counter and void the warranty of your phone. If you are sure that you can follow the instructions to the letter, you may go ahead with the procedure for your Galaxy S10.
Install TWRP Recovery on Galaxy S10, S10 Plus, and S10E
Preparations
This guide is only for the Exynos Galaxy S10E, S10, and S10 Plus.
Do not try to flash this recovery on any other phone.
Charge your phone's battery up to 50% before following the steps.
Backup each and everything on your Galaxy S10.
You need an external microSD Card for this.
Enable OEM Unlocking and USB Debugging Mode on the phone.
Disable Samsung Smart Switch while using Odin. If you do not have Smart Switch, skip this step.
Follow the instructions with full attention.
Required Downloads
TWRP Recovery for Galaxy S10 –
Galaxy S10E TWRP Recovery –
TWRP Recovery for Galaxy S10 Plus –

Note: All recoveries come with Magisk pre-patched. This means that your phone will be rooted in the recovery installation.

Encryption Disabler.zip File

Copy this file to an external microSD card. The SD card should be in your phone.
Before you go ahead…Unlock the Galaxy S10 Bootloader
Samsung has started locking the bootloader of its devices. Usually, enabling the OEM Unlock simply unlocked the bootloader, but things have changed a bit now. The OEM Unlock option is still there on the FD variants of the S10 phones, but some variants have a slightly different unlocking method. This can be checked by only going into the Download Mode on the phone. Here is what you have to do in such a case.
Turn off your phone.
Press and hold Volume Up + Bixby + Power button to boot into recovery.
In the recovery, select "Reboot to bootloader" and press Power button.
This will boot your phone into the Download Mode.
The Download Mode will show you "Press Volume Up for bootloader unlock". Long pressing this key will unlock the bootloader and wipe your phone.
Boot up your phone and immediately connect it to the internet. It will enter the rmm prenormal state otherwise. We don't want the rmm prenormal.
Skip the Google account part. We do not need the Google Account.
Now power down your phone after setting it up.
Press and hold Volume Up + Power + Bixby key to boot into Recovery.
In the recovery, select "wipe factory data reset", press Power button and wipe the phone.
Go back to the main menu in recovery and select "Reboot to bootloader". Enter the Download Mode and follow the remaining instructions.
If your phone does not show anything called "Bootloader Unlock" in the Download Mode, you may skip the above process. Your phone will work simply with the OEM Unlock option.
Finally, here is the method to install TWRP and Root your Samsung Galaxy S10.
Guide to install TWRP Recovery on Galaxy S10 and Root it
Open Odin 3.13.1.exe on your computer.
In Odin, go to Options > Make sure the only checked option is F.Reset.Time. No other option should be checked.
Come back to the main menu in Odin and click on AP tab.
Select the TWRP Recovery.tar file for your S10/E/PLUS in the AP tab.
Now boot your Galaxy S10 in the Download Mode. While your phone is in the Download Mode, connect it to the computer.
Odin will show "Added" in the logs and also show a Blue light in the ID:COM box.
Click on Start button in Odin. Odin will flash the Recovery with Pre-patched Magisk in only 2-3 minutes.
Disconnect the phone after it ends, do not restart the phone.
On the phone, press and hold Volume Up + Bixby + Power button for a few seconds. It will take you into the TWRP Recovery directly.
Click on Install in TWRP. Now click on Install Zip > Locate Encryption Disabler.zip file and flash it.
Reboot your Galaxy S10 into the system now. That's all.
Congratulations! Your Galaxy S10 is now rooted and has the TWRP Recovery installed too. If your phone doesn't have the Magisk Manager installed, you can download the Magisk Manager APK and install it manually. You can now start installing the root apps on your phone. Here is our list of best root Apps for Android in 2019. If your phone is having some issues, you may consider clearing its cache and boot it up again.
If something goes incredibly wrong, immediately flash stock firmware on your phone to recover it. Here is the guide to Install Stock Firmware on Galaxy S10, S10E, and S10 Plus.
Wrap Up
That's all you had to do in order to get the custom recovery on your S10. You are now all set to explore the real strength of your all-new Samsung Galaxy S10. Its time to unleash the hidden power of your handset. If you are facing any kind of issues, feel free to reach out to us through the comments section below. I will try my best to get back to you.