The biggest issue while watching videos online is the streaming speed. Most of the time, we face buffering problems. Why it happens, it is because every streaming service or even Adobe Flash Player temporarily download the media file onto your computer. Thus we face buffering issues and then you will be notified that the download speed is low or slow. Because of that, your streaming stops. So, If you are among them who face such issues while streaming online. This is the guide in which we will tell you how to increase speed of streaming videos & increase buffer size.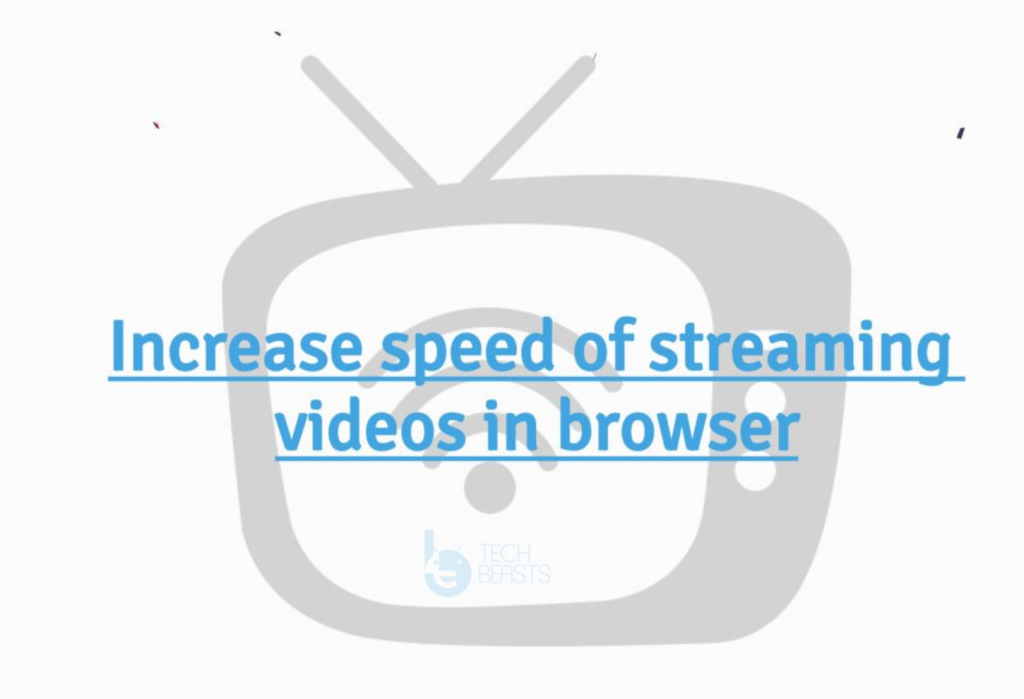 Increase speed of streaming videos & increase Buffer Size:
You will find a number of solution to this specific issue, but after testing and carefully checking all of them. We have found the best solutions to increase speed of streaming videos on any browser. Let's get started now.
Video speed controller plugin:
The first thing comes in your mind when you are facing buffering issue while streaming online is to manually adjust the video playback settings. Moreover, you change your internet connection and try another one. It works some of the times but we have a more reliable solution, there is a plugin which is called Video Speed Controller. This plugin allows you to can optimize and control your video without changing settings and it will increase speed of streaming videos.
At the moment, Video Speed Controller is available for Google Chrome and FireFox. Installing this Add-on or Plugin is as easy as installing any other Add-on. Open the Chrome Store or Mozilla Add-ons store and search for Video Speed Controller. Click on the install button and you are good to go.
How it increases the speed of YouTube Videos:
Now let's talk about YouTube which is the biggest free video platform. Once you have installed the Video Speed Controller, you can easily control the video playback. This Add-on supports sites running on HTML5. Also, Video Speed Controller provides you different sets of controls which you can use to control the playback. Moreover, you can edit them as per your desire.
Now you all be wondering how a single Add-on can help you Increase speed of streaming videos. Let me explain it to you, this Add-on bypass all the restrictions set by the service provider. Hence with no restrictions, your streaming speed will increases. Not only it will Increase speed of streaming videos, but it also boosts up the playback. 
There is one more thing I like to add, Speed Controller, gives you total control over all the settings. You can easily increase or reduce the speed of streaming videos.
Check Internet Connection:
This is also an important factor, maybe your Internet connection is down or slow. That's why you are not getting full speed while streaming videos online. Make sure you are connected to an active and good internet connection. Otherwise, you will keep on facing buffering issues.
First, change the connection and connect to another Internet. After that refresh, the page and check is your speed of streaming increased or not. If not, restart your router and then connect again with that same Internet connection. Moreover, before you start streaming videos check the speed of your Internet connection. It will give you a clear picture of your internet connection.
After checking the speed of your internet connection, you feel that it is not your average speed. The best solution to that is to contact your service provider and get it fixed. Once your connection is back to its average speed, start streaming videos online.
Adjust Video Quality:
Whether you like it not but a speedy internet connection is behind the fast streaming rate. So, it is a must, you should have a high-speed internet connection in order to enjoy any video without buffering. However, if your internet connection is slow and you are trying to stream a high definition video. Trust me it won't work and in this condition, you won't be able to increase speed of streaming videos.
The best bet in this situation is to lower the video quality. All the streaming websites allow you to change the video quality. There is one other thing you can do, rather than selecting a specific video quality. You should choose " Auto ", it automatically selects video quality according to your internet connection speed.
It does work in so many cases and in this it also does. You all know that Our Browser saves internet files in the form of cookies and cache. Well, cache files are temporary and they don't do much. However, cookies will stay under and they are not temporary, you will have to delete them.
The purpose of both cache and cookie is to load the website faster. But sometimes cookie files are missing or broken and because of that, you are facing such issues. First thing you should do is to clear your cache and cookie.
That's all for now. This is how you Increase speed of streaming videos in the browser. Do let us know what you think about this guide and let us know if we have missed anything.