Today, I will tell you how to get free gems and coins in any game on iOS or Android. All you have to do is download, GameGem Hack For iOS and Android. A perfect tool to get unlimited coins and gems in any game. But this time, you need a Jailbreak device to install GameGem Hack For iOS. However, if you are an Android user, you don't need to root your device.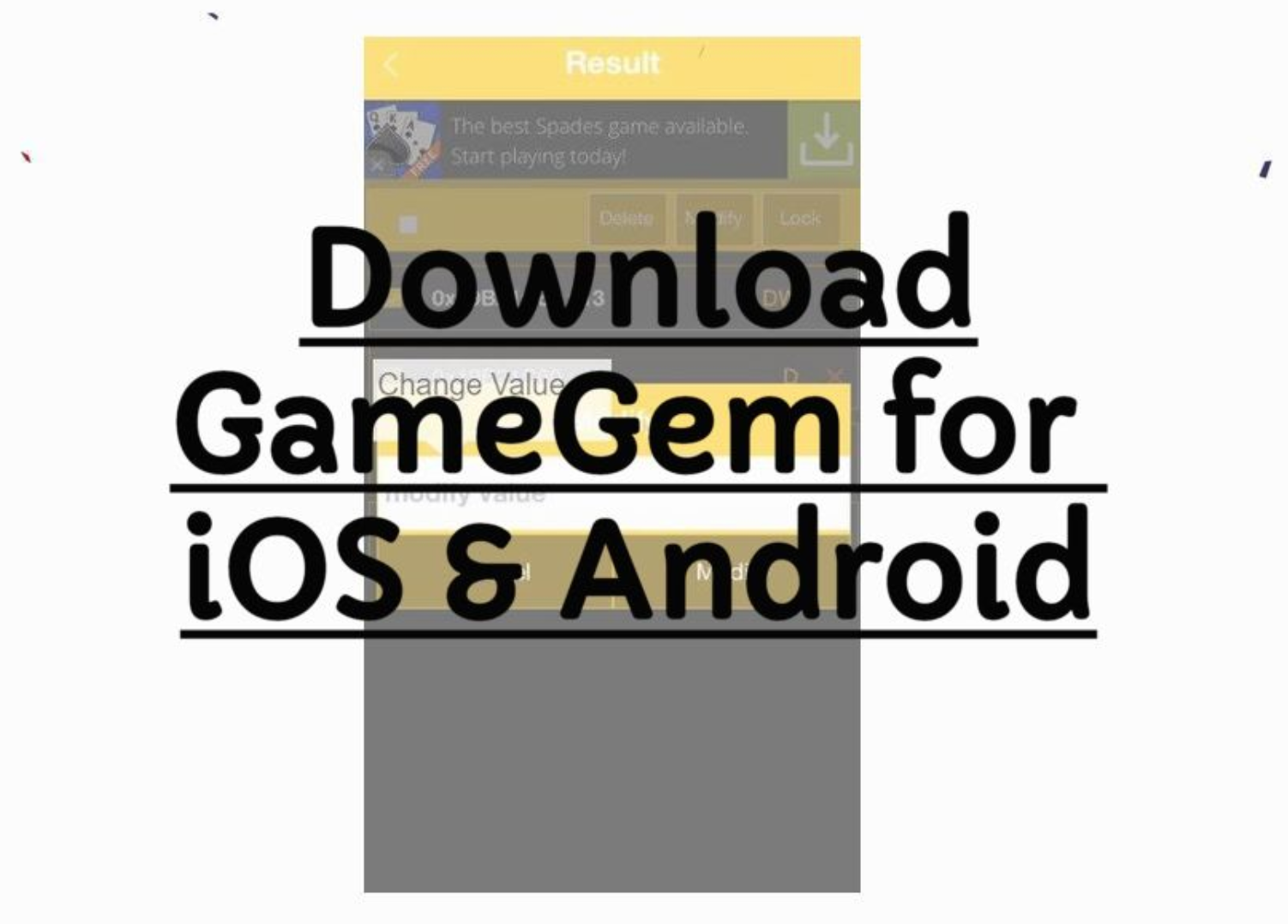 What's GameGem Hack? What does it do?
In every game there comes a time when we get stuck on a level and there are not enough coins or gems to pass on. The only thing you can do in this situation is to use the in-app purchases option to buy coins and gems. Well not anymore, now you don't have a play and play a single level or map etc. You can use the tool I am providing and you will get an unlimited amount of everything.
If you are an Android users then you are well aware of the fact that there plethora of games and apps mods. Which unlock all the things, everything is unlimited but iOS users cannot enjoy such perks, until now. The app I am providing you named as GameGem will allow iOS users to enjoy the same perks as Android users do.
GameGem App is not available on Google Play or App Store. Since it's a modified app, you need to download it using third-party sources.
So in this post, I will tell you how to download GameGem Hack on iPhone & iPad, iPod Touch. Moreover, I will also provide the GameGem app for Andorid users. There is only one downside to GameGem for iOS users. They need to Jailbreak their device in order to download GameGem for iPhone & iPad.
I know that Apple is working hard to prevent the Jailbreak but If you are running iOS 13 or iOS 12.1.4, you can Jailbreak your device with ease. You use our guide to Jailbreak iOS 12.x, use the following link.
Download Unc0ver 3.6.3 IPA to Jailbreak iOS 12.4 via Cydia Impactor
Jailbreak iOS 12.4 using Unc0ver 3.5.x without the computer
Android users can easily download the GameGem Hack APK and install it. iOS users have to Jailbreak their device and then using Cydia they can install GameGem Hack for iOS.
Why GameGem Hack?
You will be wondering after Jailbreaking our device, we can install a number of other tools such as Game Killer, Game Guardian, and Game Player, etc. All of them are also available on Cydia, It's true but believes me, GameGem is simple to use and it works on all the games. I have tried others they do work but not for all the games. That is why I use GameGem Hack for iOS.
We don't urge our users to hack apps and games. This guide is only for helping purposes or more of a trick.
You will be glad to know that I have used GameGem tool on games such as Subway Surfers, Clash of Clans, Final Fantasy and many more. And it worked perfectly, not only that, GameGem hack for iOS uses the VPN while doing the magic. That way, it protects our account form getting banned.
Now you know why I prefer the GameGem app. I think it's time to start my guide on how to download the GameGem hack for iOS & Android.
Supported Devices & Compatible iOS Versions:
| Supported Devices: | iPhone 11 Pro Max, iPhone 11 Max, iPhone 11, iPhone 8, iPhone 8+, iPhone X, iPhone 7, iPhone 7S, iPhone 6S Plus, iPhone 6S,iPhone 6Se, iPhone 6 Plus, iPhone 6, iPhone 5S |
| --- | --- |
| Compatible OS: | iOS 13, iOS 12.1.4, 12.4, 12.3, 12.2, 12.1. iOS 12, iOS 11, iOS 11.0, iOS 11.0.2, iOS 11.0.3, iOS 11.1, iOS 11.1.1, iOS 11.1.2, iOS 11.2, iOS 11.2.1, iOS 11.2.2, iOS 11.2.5, iOS 11.2.6, iOS 11.3, iOS 11.3.1, iOS 10, iOS 10.0, iOS 10.0.1, iOS 10.0.2, iOS 10.0.3, iOS 10.1, iOS 10.1.1, iOS 10.2, iOS 10.2.1, iOS 10.3, iOS 10.3.1, iOS 10.3.2, iOS 10.3.2, iOS 9 |
Requirements:
Requirements.
* Jailbroken iPhone or iPad.
* Must have iPhone 6 not lower than this.
* Android device running 4.4+.
* Active Internet connection.

Download GameGem Hack For iOS and Android [ iPhone & iPad ]:
There is no other way you can use to Download GameGem Hack For iOS. You need to Jailbreak your device and then after the Cydia is installed. Then and only then you can install GameGem Hack For iOS devices. As I told you that GameGem is a free Cydia tweaked so Jailbreak is a must thing.
On the other hand, Android users don't need Google Play to download GameGem hack for Android devices. Use the following link I provided below and you can directly download and install the GameGem app.
Install GameGem Tweak on For iOS 12+/11+/10+/9+/8+/7+ Jailbreak:
Step1: Once you have Jailbroken your device and Cydia store is installed. Launch the Cydia and wait for it to load up.
Step2: Tap on manage and you will be presented with a number of options. Choose Add Sources.
Step3:  In the sources page, you will see the Bigboss repository pre-installed. It's the biggest Jailbreak repository of all time. Tap on BigBoss.
Step4: Now scroll down and look for GameGem, it may take some time but I am sure you will find it.
Step5: Once you find the GameGem, Tap on it and on the next page tap on the install button.
There you go you have installed GameGem hack on iOS devices. Now head back to the home-page and launch the GameGem app. You will be presented with a number of apps and games that are supported by the GameGem.
Download and Install GameGem Apk on Android:
First of all, you need to download the GameGem APK from the following link on your Android device. Once it's done, heed the instructions below to install GameGem APK on Android.
To install the APK on an Android phone, you can either copy the downloaded APK to the phone or download it directly on the phone.
After you have it on the phone, open a File Manager and open the APK to install it.
Follow the on-screen instructions to install GameGem APK.
As the installation ends, launch the app from the app drawer.
How to Use GameGem on iOS and Android:
Now that you have installed GameGem on both Android and iOS. Let me tell you how you can use the GameGem tool. It's pretty simple just follow my lead and you will know too.
First, launch the game for which you want to get unlimited coins and gems for.
Now launch the GameGem app and wait for it to load up properly. Now select the game from the list you want to hack.
You will be taken to a new page. There you can add and change the values of the coins and gems, etc.
That's all.
This how you can download GameGem Hack For iOS and Android [ iPhone & iPad ]. Please try it and let me know.